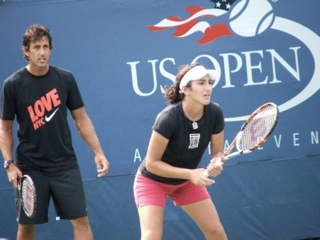 Dear Parents, Players and Members:
You may have seen me observing training, players and coaches at Tennis Club Odense over the past week and a half – an intense looking, very serious American quietly standing in the shadows.  My apologies for not interacting with you all or getting to meet as many people as I would have liked to.  It was a fact finding mission.  I will officially introduce myself at the Parent/Player Meeting announced below.
The purpose of my initial visit was to inspect the club, meet the board and some of the members, as well as to observe the training, the coaches in action, and of course the players in their element.  While I may not have always participated, I was able to gain a good feel of the club environment, it's coaches, how they train our players and what the players are working on and working towards.  Many observations were made and noted, as well as having the opportunity to interact with several of the clubs key members and families.  My sincerest apologies for being quiet and distant.  I felt the need to observe and evaluate FIRST and THEN make my recommendations and observations known to all.
I now need to return to Florida where construction is soon to be completed  on my new home.  It is necessary for me to get my family moved into our home and get them settled before I return to Odense and embark on this massive and exciting project at TCO.  My plan is to return sometime in October.  The date, I am unsure at present but it will be announced soon.
I am incredibly excited about the opportunity presented to me by the new board at TCO, with the support of the Danish Tennis Association.  Your eyes are about to be opened in regard to real-world tennis training and player development from a truly global perspective.  I look forward to demonstrating to TCO, it's players and members, as well as the Danish Tennis Association what a difference experienced, professional coaching and player development can make.
Sincerely,
Bill Eastburn
Head Coach – Tennis Club Odense