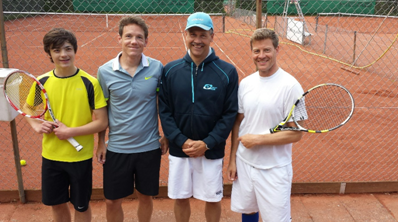 The second team was to face Århus 1900 III to rectify things after coming up short in the first match.
Flemming having his birthday, a lowish number that is not to be revealed in this context, gave reason for Haris impressing all of us by baking a delicious apple cake all by himself. This could easily develop into a tradition if Haris obliges, and there are already rumours of an oreo cake floating around.
Johnny was lost to the first team, meaning I had to play on position 1, while the team was completed by Mads on 4.
Århus fielded a lineup of juniors Frederik and Mads on 1 and 4, as well as 2 seniors in Jacob and Oscar on 2 and 3.
The only match with reasonable chances was Flemming's, who pushed Oscar to -5 in the second set.
Haris lost to Jacob, who served big, hit big, and had the true veteran touch, Mads faced a guy that simply played percentage tennis and retrieved a little better than he could do himself, and I lost some crucial tight games allowing the score to run away in a game that possibly could have been closer.
In the doubles, the team got its first small reward when Flemming and Mads teamed up to form a formidable veteran's double. Flemming, one year older and thus possibly even wiser and Mads, who brought a fierce attitude and nice touch at the net, played well and took home the first set. While the second set was lost rather quickly, the form was back in the match tiebreak, where the guys played some excellent points with good reactions and constant threatening at the net. From the baseline, Mads and Flemming would often attack down the line, succeeding in putting the opponent under pressure and forcing errors. After a 2-4, they got up to 6-4 and 8-4, and soon after, we were looking at our first point. Well played guys!
Me and Haris were outgunned in the 1st doubles leading to an end result of 1-5 against a team with a little more quality overall.
We'll be back hungry at home against Viborg on the 13th of june.