Tennis Club Odense's cheftræner Bill Eastburn er netop blevet anerkendt med den højeste GPTCA level A certificering af den verdensomspændende ATP worldtour Professional sammenslutning af coaches hvis bestyrelse i dag består af: Tony Nadal, Alberto Castellani, Rainer Schüttler og Dirk Hordoff.
Read more In English
TCO Head Coach, Bill Eastburn, selected by GPTCA as an "A" Level International Coach – their highest recognized level for Professional Tour Coaches and the only coaching certification in the world to be ATP Tour Certified.
With this recognition, Bill Eastburn becomes the only active coach in Denmark with GPTCA "A" Level status, making Tennis Club Odense the first and only Danish club to have a GPTCA "A" level coach.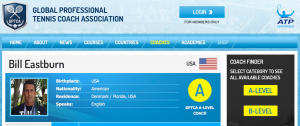 There is no testing for the "A" Level International Coach, nor are there any courses or tryouts.  Level A coaches are selected by the GPTCA Board of Directors for their accomplishments, achievements, nominations by their peers, as well as their results , contributions and consistency on the professional tour – a board that includes Tony Nadal, Alberto Castellani, Rainer Schüttler and Dirk Hordoff.
"The Global Professional Tennis Coach Association (GPTCA) is an international organization dedicated to educating, training, and assisting professional tennis coaches who wish to evolve at the ATP and WTA Tour level.
Learn about the GPTCA HERE: on ATP World Tour Uncovered:
https://www.youtube.com/watch?v=snXwbgHU2JU
Founded on August 28th, 2010, by 49 tour-level tennis coaches in a meeting at the famous Nino Tuscany's restaurant in New York City, the GPTCA has continually worked to further the knowledge of tennis coaches who participate in the sport.  The mission of the association is "to raise the standard of pro tennis coaching around the globe thanks to the experience of the best ATP and WTA tour coaches who share their knowledge with less experienced coaches."
The GPTCA is represented in 41 countries through National Presidents who are well-known and respected in the tennis coaching profession.
Thanks to the partnership with the ATP World Tour, the GPTCA is the only association in the world which offers ATP Certified courses."