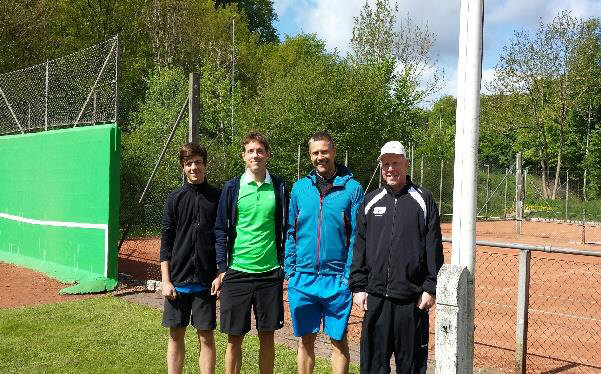 Driving off to Skanderborg at a forgiving time this Sunday, early hopes of awesome tennis weather to kick off the season quickly got shattered by intense storm winds, slamming car doors while threatening with debris from trees. While windsurfers could be seen packing their vehicles to make good use of the conditions, we put our 3 pack bags in the car to attempt to do the same.
Nevertheless, the hopeful four of us were hoping to have found the perfect combination of old guys, namely the author, Flemming and Johnny, and youth in the energic form of Haris, who was making his debut in these lofty parts of Danish team tennis.
The opponent, Skanderborg, showed to have reinforced previous teams with two new players, Jan, a former 1. division player making a comeback, as well as Hans, who has a past in our very TCO, joined by Morten and Lars on positions 1 and 4.
After warmup, we collectively decided to start things with doubles. Me and Haris played the second double vs. Jan and Hans. I will have to admit to mentally having taken the first set off, and plenty of easy errors lead to a 1-6. We decided to fight back, and were up 3-2 with no-ad to a possible 4-2, which was lost in a rather spectacular point where Haris ended up stopping, not smashing, a very high, very short rescue, that was caught and then point subsequently lost. The set was well played, especially by Haris, who showed that he has improved his game leaps and bounds, but unfortunately lost with 4-6.
The first doubles proved to be an entertaining, well-played affair, with Johnny and Flemming coming up short 4-6, 6-7, losing two set points at 6-4 in the tiebreak.
0-2 before singles, and we thus had to up our games.
Johnny on position one played vs. Morten and did not manage to get away with a W, losing 1-6, 2-6. Asked about his performance, Johnny felt like windy conditions hurt his game, and that he wasn't succeeding in hitting through the ball in the harsh, windy conditions.
The author was put against Jan on position 2, and the short version is that I got my butt kicked. Now it would be easy to relate this to being drained after a 48 hour shift Friday and Saturday before the game, but while not playing well, I didn't play horribly either. Jan put everything back in play, made hardly any unforced errors, and played with excellent touch from the baseline as well as at the net. Sometimes you need to tip your hat to the opponent, and while plenty of games were hard fought, I ultimately had to concede the dreadful double bagel.
Haris was matched against Hans, and was outmatched point for point from the baseline. Not entirely pleased with his game and the conditions, the second double bagel of the day was a fact.
Flemming fought well on position 4 against well playing all-rounder Lars, with an end result of 4, 2. Flemmings impression being, that he could have won the match playing a little better on important points.
Obviously, the result was not great. Conditions were tough, matches were interrupted several times because of rain, and there was plenty of wind, but that affects the opponents equally.
We'll look to learn from the game and come back stronger in the next match against Århus this upcoming Saturday!