TCO's Agnes Ditlev, continues to climb the Tennis Europe Rankings, moving up over 130 spots with results in Israel over the past two weeks – Becomes the 2nd Highest Ranked Danish Player in the Girls 14s TE Rankings.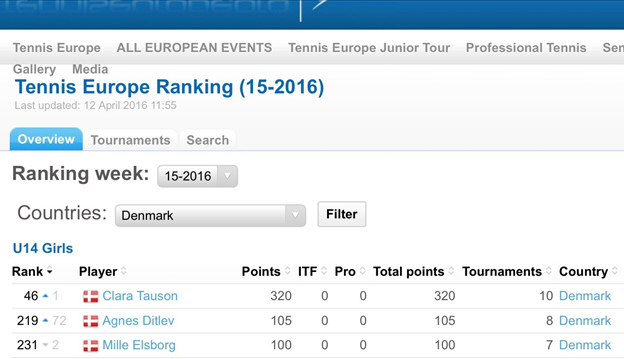 Odense, Denmark – April 12th, 2016
Tennis Club Odense's, Agnes Ditlev, becomes the 2nd highest ranked Danish player in the European rankings today, moving up to number 219 in the Girl's 14s.  With her results in the the last two Tennis Europe events in Israel, Agnes moves up in the rankings more then 130 places to pass Mille Elsborg, the partner she captured the 2016 Danish National Championships in Doubles with just a few weeks ago at Marienlyst.
Agnes' international Tennis Europe ranking has improved more then 450 spots since beginning her work with TCO's Head Coach, Bill Eastburn, back in September of 2015.  Bill, the only Head Coach in Denmark to be selected to the GPTCA Level A International Coach certification, projects Agnes to be inside the top 100 by the end of August 2016 as her competitive development continues to take shape.
Congratulations to Agnes, from her Coaching Team at TCO!